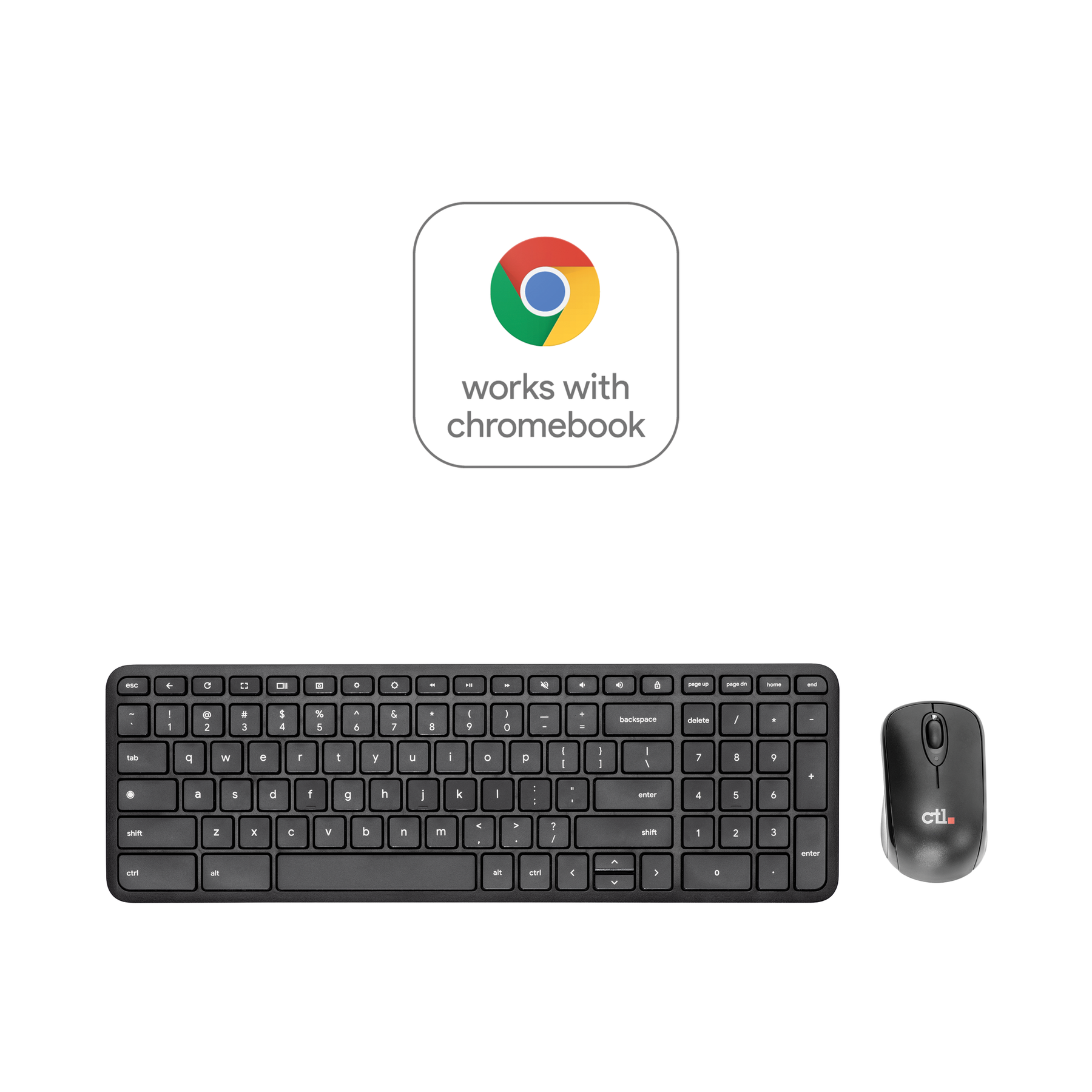 Chromebook Essential
PX14EX 14" Chromebook, Google Enterprise License, Multi-Port Adapter
This contact center kit combines the newest technology in the 14", quad-core, CTL Chromebook PX14EX with a Chrome Enterprise Perpetual License and a 4K60 Elite USB-C Mult-port Adapter to create a versatile and work from anywhere configuration.
Add On Options
Chromebook Essential

This contact center kit combines the newest technology in the 14" PX14EX Chromebook with a Google Enterprise Upgrade License and a 4K60 Elite USB-C Multiport Adapter to create a versatile and efficient configuration.

Complete your contact center experience with an optional CTL 27" Monitor, a Works with Chromebook Keyboard and Mouse, and Polycom headset.
Superior Performance
---
The Intel® Jasper Lake Quad-Core N5100 CPU is great for the education market and those in search of a higher performance quality device. This improved CPU is said to deliver up to 35% better overall application performance and up to 78%, better graphics performance compared to Gemini Lake Refresh processors. With 8GB of memory and 64GB of storage, this processor also features a slightly higher burst frequency than previous models.
Connected and Protected
---
Stay connected in more ways than one with a front-facing HD camera accompanied by a digital mic, various USB ports with both PD and DP functions, Bluetooth 5.0, and WiFi 6. The long battery life and Google H1 HW Security ensures your device is protected while connected. The quick-charge USB-C adapter recharges the 45Whr battery, allowing users to work all day without losing power.
Quality you can rely on
---
Measuring at 12.9 x 9.0 x .74 in, this compact Chromebook is built for portability while not sacrificing quality. The 1920x1080 display features Intel® 14" FHD (1080p) Graphics for image clarity during meetings, streaming media, and more. Running on Chrome OS, the PX14EX is ready to power on your individual and collaborative projects with the simplicity of a Google account sign-in. With durable hardware and June 2030 AUE, users have plenty of time before needing to replace their device.
DOWNLOADS
Kit Spec Sheet
Monitor Specs
Multi Port Adapter Specs
Poly 300 Series Headset Specs
Poly 500 Series Headset Specs
TAKE BACK SERVICES
CTL's electronics disposition and disposal services include removal/recycling of qualified CTL electronics equipment, including rechargeable batteries and packing. CTL allows customers to optionally keep the hard drives associated with the system that is de-installed. Equipment and packing are cleansed and recycled/disposed of according to EPA standards. Visit our Electronics Take Back page to learn more.
RECHARGEABLE BATTERY RECYCLING
CTL offers stand-alone rechargeable no-cost rechargeable battery recycling services for customers in the US and Canada for all CTL products. CTL offers this service through a partnership with Call2Recycle. Call2Recycle has drop off locations within 10 miles of more than 87% of the US population. To find a location near you, visit https://www.call2recycle.org/locator.
USA BASED
Headquartered in the USA since 1989, CTL designs and purpose builds Chrome devices to meet the needs of our customers.Highly Responsive Service & Support: Quality customer service and readily available sales and support team are all based in the USA.
GOOGLE CHROME EXPERTS

We know Chrome. Our robust Chrome device portfolio includes LTE enabled Chromebooks, powerful Intel Core I7 Chromeboxes, and Google Enterprise Compute Systems for Google Meet.

Comprehensive Chrome Solutions: From Google licensing, to internet security, and deployment management services.

SUPERIOR SERVICE AND SUPPORT

IT Managers love CTL's USA based service and support because it makes their lives easier. Our 'Fast Track' service program for K12 and business customers is free and includes: free domestic shipping over 100 units; spare parts available online; 2-way RMA shipping; 5 day guaranteed repair turnaround; self repair option; FREE Google ZTE provisioning

CHROME FLEET LIFECYCLE MANAGEMENT

Lifecycle management starts with sustainable sourcing. As part of the Responsible Labor Initiative (RLI), CTL supports the rights and dignity of workers throughout the supply chain. Once you've deployed your fleet, CTL offers easy access to Genuine CTL parts to keep your fleet running. When devices reach end-of-life, CTL offers a buy back program for environmentally friendly recycling.

FLEXIBLE AND EASY TO WORK WITH

Our flat organizational structure enables us to be closer to our customers and the market, which means we better understand our customers' needs and the ever-changing dynamics of technology. We give our customers easy access to all levels of our management to help create opportunities and solve problems. In other words, we will always be there when you need us.

FAST AND NIMBLE

CTL is all about speed. We offer Chromebooks with faster wifi and processors. We make device deployment faster and easier. We offer the fastest turnaround times in the industry on repairs. We can do all this because of a company culture that believes in order to be responsive to our customers, we need to be nimble, flexible, accountable, and accessible.
ONLINE
If you want to purchase CTL products online, you're in the right place! Purchasing on ctl.net is fast, secure, and easy. You can learn about our devices, services, and support, and complete your transaction at your convenience. If you need immediate assistance, you can use our chat to quickly get the answers you need.
FROM YOUR DEDICATED CTL ACCOUNT MANAGER
If you'd like personal assistance with your purchase, including for large orders and bids, email us at hello@ctl.net, or call us at 800.642.3087 and we'll connect you with your account manager. Our staff is based right here in the USA and knows everything Chrome!
USING A PURCHASE ORDER
CTL accepts purchase orders from customers that have completed an application for net terms and have received a CTL account number. Customers may submit purchase orders via email, mail or fax.
Purchase orders may also be used on CTL.net by entering the number in the Purchase Order text box in the CTL.net shopping cart.
FROM RESELLER AND DISTRIBUTION PARTNERS
CTL products are available in the U.S. Distribution Network through TD Synnex, Ingram Micro, and thousands of reseller partners. CTL products are also available through distributors around the globe.
ON CONTRACT
CTL holds a variety of public sector purchasing contracts. Reach out to us at hello@ctl.net to discuss which contract is the best fit for your needs.
VOLUME PURCHASES
CTL offers discounts for volume purchases. Simply, tell us about your project by requesting a quote, and we'll work with you on special pricing.
DEMO UNITS
Customers evaluating products for volume purchases can also request a deeply discounted device. Just complete the CTL Buy and Try form to see if our buy and try program is right for you.
Shipping
Yes, we ship all over the world. Shipping costs will apply, and will be added at checkout. We run discounts and promotions all year, so stay tuned for exclusive deals.
It depends on where you are. Orders processed here will take 5-7 business days to arrive. Overseas deliveries can take anywhere from 7-16 days. Delivery details will be provided in your confirmation email.
Other
You can contact us through our contact page! We will be happy to assist you.